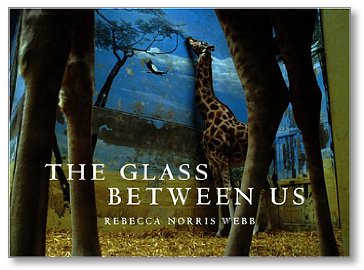 THE GLASS BETWEEN US
Photographs by Rebecca Norris Webb.
Channel Photographics, New York, 2006. 108 pp.,
55 full-color illustrations, 8 1/2 x 11 1/4".
Publisher's Description
A photo exploration of the complex and vulnerable relationship that exists between people and animals in cities. Seven years ago, Rebecca Norris Webb wandered into the Coney Island Aquarium and spotted a white beluga whale soaring high above the heads of visitors, who were reflected in the glass. Since then, Webb has photographed urban animals in New York, Chicago, Havana, Istanbul, New Delhi, Paris, and other cities around the world, often viewing the animals between some sort of transparent barrier. She shows us that in a certain light, the glass between us can be a window and a mirror.
Click here for details and ordering information