CATEGORY:
Photography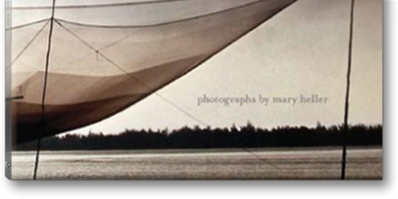 BOOK DESCRIPTION
With the world as her canvas, and remote, estoteric sites as her subjects, Mary Heller has photographed in more than twenty countries. The result is her stunning work Elsewhere, which presents seventy-five fine art images from her unique oeuvre, and features such disparate sites as the forts of Oman, Ethiopian monasteries, Dogon granaries in Mali, New England barns, a Saharan salt caravan, and Yemeni doors. The images' subjects are eclectic, yet each expresses Heller's unique and often mystical aesthetic approach. Her work has been called "provacative," and "possessed" of a mute eloquence."

Mary Heller studied with Paul Caponigro and Ruth Bernhard, and is represented in over 100 private and corporate collections. She has exhibited widely in galleries in the U.S., Europe, and the Middle East. Heller's camera of choice during the major part of her career has been a Hasselblad though her early black and white photographs were taken with a 4x5 view camera, and her more recent work has been done in a digital format.


TITLE:
ELSEWHERE
AUTHORS: Willis Hartshorn and Vicki Goldberg
PHOTOGRAPHER: Mary Heller
KEY POINTS:
Over 75 captivating images of some of the world's most dramatic international locations.

Willis Harshorn, Director of the International Center of Photography, has written a foreword to the collection, and photo critic Vicki Goldberg has contributed an interview with the photographer.