CATEGORY:
Photography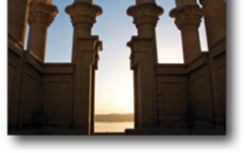 BOOK DESCRIPTION
First conceived in the ancient temples of Egypt in 2009, the stunning images and original poems of In This My Beautiful Egypt describe a place in time when gods and goddesses were revered. The photographs, taken by Natalie Hoogasian when the temples and pyramids were closed to the public, convey the spiritual energy of the place, dramatic and untrammeled.





The poems were received by Sandra Lehti-Culjak as a direct transmission while in the temples. In the back of the book are further descriptions of the temples in relation to the gods and goddesses such as Osiris, Isis, and Horus.
TITLE:
IN THIS MY BEAUTIFUL EGYPT
PHOTOGRAPHER: Natalie Hoogasian
POETRY: Sandra Lehti-Culjak
KEY POINTS:
For those who love poetry, photography, archaeology, spirituality, and/or the vibrant gods and goddesses of Ancient Egypt.