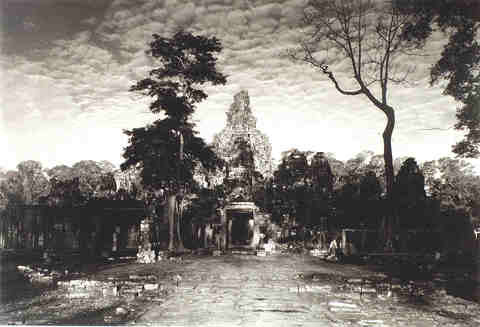 PASSAGE TO ANGKOR
Photographs by Kenro Izu. Poetry by Helen Ibbitson Jessup.
Channel Photographics, Santa Fe, 2003. 160 pp.,
100 tritone illustrations, 12x10".
Limited edition info The 'Passage to Angkor' Deluxe Edition of 50 includes a signed and numbered book, and an exquisite signed and numbered platinum print of one of Izu's most popular images, reproduced on the cover of the book. The platinum prints were made by Kenro himself to his exacting gallery edition standards... in fact, a second internegative had to be made for printing as the first did not yield the desired tonal range Kenro wanted (image size is 8 1/4 x 11 7/8 inches on 11 x 14 1/2 inch hand-made Arches fine art paper). The book and print are presented in a high-quality custom-made clamshell portfolio box, covered in fine green cloth with the title stamped in gilt on the 'spine' (produced by PortfolioBox, Inc.). Since the print is larger than the book, the clamshell case was designed with two 'spacers' to create a recessed area in which the books rests, with the print resting on top (protected in a heavy mylar sleeve with tissue guard). The price will increase in increments to $2,000-$2,500 (last few copies), as it sells out. View Platinum print image.
Publisher's Description
Of all the sacred sites that Kenro Izu has photographed since 1979, Angkor Wat is undoubtedly his spiritual and psychological base camp. While he has so often succeeded in presenting the sacred and the ancient landscape, Angkor Wat is the creative thread that weaves itself through all of his work. Angkor Wat is the touchstone-it supports Izu's output and indeed holds it together like the geometrical matrix of the spider's web. For these reasons, Passage to Angkor artfully reexamines this most important aspect of Izu's stunning career spanning the last quarter century, presenting Izu's most accomplished Angkor Wat photographs in a rarefied book form that is remarkable for its physical beauty. Passage to Angkor will undoubtedly rank among the most important publications of these timeless and limitless photographs that depict one of the world's most mystical places. Passage to Angkor is accompanied by poems by Helen Ibbitson Jessup that were inspired by Izu's photographs. Proceeds will be donated to Friends without a Border, a charity founded in 1995 by Kenro Izu as a way of returning something to Cambodia for the many images he captured there.
Click here for details and ordering information