CATEGORY:
Children's/Art



BOOK DESCRIPTION
Thaddeus's dad was the boss of the biggest invention factory in town, and now Thaddeus wants to be the boss. But what do bosses do? In this magically illustrated book readers follow five-going-on-six-year-old Thaddeus as he goes about learning what it really means to be the boss.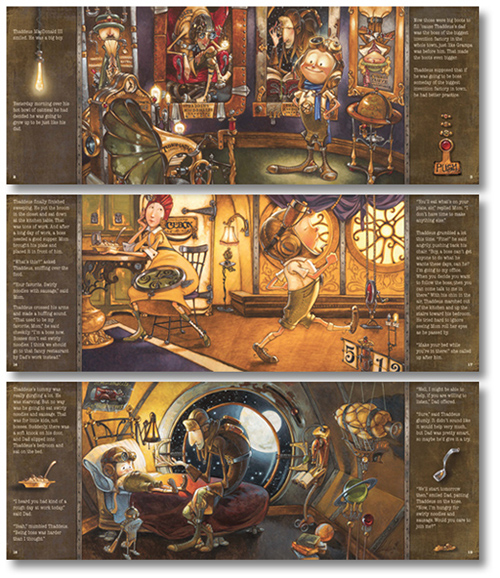 TITLE:
THADDEUS THE BOSS
AUTHOR AND ILLUSTRATOR:
Heather Theurer

KEY POINTS
From the illustrator of four of the "Bella Sara" books for Harper Collins; the Princess and Knight "Step Into History" books for Becker & Mayer and Duck Duck Moose, by Judith E. Torres.
Includes a "did-you-see-that" appendix full of fun and historical facts about art and history.
For children ages 3 and up
ABOUT THE AUTHOR
Heather Theurer lives with her husband and five children in the mountains of northern Utah. She creates artwork for Bella Sara, illustrates for publishers such as Harper Collins and Becker & Mayer, and keeps busy painting her own creations, including murals and trompe l'oeil, on the side.
Comparative titles include Melinda Long's How I Became a Pirate (Harcourt; David Shannon, illustrator) and Max Lucado's You Are Special.
"There's a lot that inspires me… from classic Renaissance art to the pre-Raphaelites to the modern. As for current book illustrators, I love David Shannon, Tony DiTerlizzi, and Shaun Tan."
– Heather Theurer