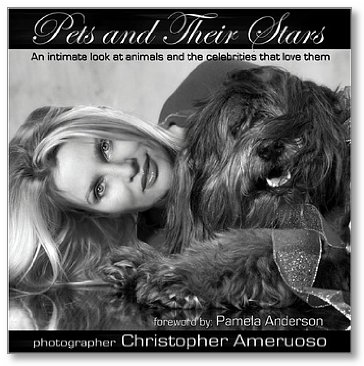 PETS AND THEIR STARS
Photographs by Chris Ameruoso. Introduction by John Travolta.
Channel Photographics, New York, 2005. 180 pp.,
200 varnished duotone illustrations, 10x10".
Publisher's Description
Casebound in a decorative box.
Deluxe Edition.
Pets bring out the goodness, humanity, and optimism in people and speak directly to our souls. This edition follows on the heels of the hugely successful Pets and Their Celebrities, and features a new round of delightful photographs. Christopher Ameruoso, pet photographer to rich and famous, continues to capture stars in some of their most revealing and candid moments with their furry, feathered and four-legged friends. This beautiful black and white coffee table book takes us on a journey inside the hearts of over 85 of Hollywood's hottest celebrities: Jennifer Love Hewitt, Ice-T, Nicolette Sheridan, Fred Durst, Brendan Fraser, Virginia Madsen, Kate Hudson and Dean Cain. Ameruoso's photographs capture the enduring bond between humans and the animals they love, depicting the complexity and richness of this special relationship. Though the subjects are celebrities, the spirit of unconditional love, loyalty, courage, and companionship takes center stage. A renowned pet photographer in Hollywood, Christopher Ameruoso has worked with some of the hottest stars (and animals) in Hollywood - Pamela Anderson, John Travolta, Kate Hudson, and Ben Stiller to name a few. His touching black and white photographs have appeared in The New Yorker, Vanity Fair, People, and In Style. He authored the beloved first edition of Pets and Their Celebrities and photographed for the official Osbourne pet book, Bark at the Moon.
Click here for details and ordering information