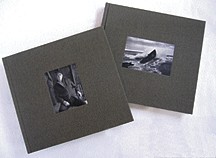 MEN'S LIVES
The Surfmen and Baymen of South Fork
Text by Peter Matthiessen. Photos by Dan Budnick, Martine Franck,
Jean Gaumy, Evelyn Hofer, Lynn Johnson, Danny Lyon, Gilles Peress.
Channel Photographics, New York, 2005. 408 pp., Vol. I: 238 pages;
90 duotone images Vol. II: 170 pages; 123 duotone images, 11 x 12".
Publisher's Description
Limited edition of 500 signed and numbered copies. Includes signed gelatin silver print shown below. Two volumes casebound in a clamshell box. Men's Lives is the powerful and moving portrait of the waning, three-hundred-year-old culture of the commercial fisherman of the eastern end of Long Island, their ordinary lives rendered extraordinary-- and universal-- by circumstance and by the spare, fluid prose of one-time fellow crewman Peter Matthiessen, whom the New York Times Book Review has called 'a unique and masterful visionary artist.' Doug Kuntz, a local fisherman-photographer, also wished to leave a record of this handful of men and women who still live from the sea. He, along with Dan Budnick, Martine Franck, Jean Gaumy, Evelyn Hofer, Lynn Johnson, Danny Lyon, and Gilles Peress, observed and photographed this seafaring community between 1981 and 1985, in the distinguished documentary tradition pioneered by Matthew Brady and the Farm Security Administration. Their work, together with photographs culled from private collections and archives, has resulted in an unforgettable portrait, in pictures and prose, of an unforgettable, and unforgetting, breed of men. This deluxe two-volume set, housed in a clamshell box with a signed limited edition silver gelatin print by Lynn Johnson, is a marvel of modern day bookmaking and is here reissued in a numbered edition of only 500 copies. Each copy is signed by author Peter Matthiessen.
Click here for details and ordering information