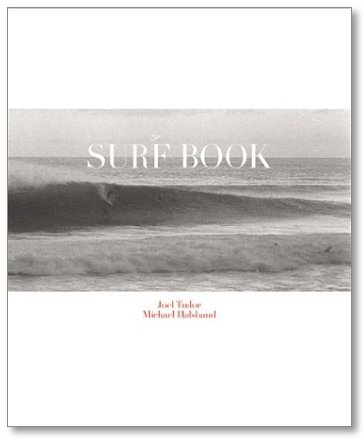 SURF BOOK
Photographs by Michael Halsband. Text by Joel Tudor.
Channel Photographics, Santa Fe, 2004. 236 pp.,
117 black-and-white and 4 color illustrations, 9 x 11 1/2".
Legendary surfer, Joel Tudor, and master portraitist, Michael Halsband, met in a parking lot in the late 1990s. Ever since, they've embarked together on a journey around the globe documenting some of the world's most talented and elusive surfing stars for this beautifully crafted book. Tudor shares stories and describes how each figure has influenced his surfing career, and Halsband presents a stunning array of portraits-in huts, in cars, in backyards, on the beach and on the street-shirtless men and Hawaiian prints abound. From the filmmakers to board shapers, from barbeques to the big waves, a real sense of fun and summer pervades the pages of this refreshing exploration of surfing, its competitive and kicked-back aspects represented in balance. Diehard surf fans will find the line up impressive (Kelly Slater, the Iron brothers, and Rob Page to name a few), and non-surfers alike can enjoy the imagery and spirit of adventure here.
Publisher's Description
In this remarkable compilation of images and text, legendary surfer, Joel Tudor, and acclaimed photographer, Michael Halsband, team up to take viewers on a surfing odyssey that is unique for its breadth, beauty and diversity. As a young surfer growing up in California, Tudor was early on exposed to surfing's living legends. From age thirteen, he would meet as many as he could, to gather the knowledge and the stories they imparted. He met with past surf champions, master board builders, and underground cult figures. By age eighteen, Tudor's unique talents also demonstrated the influence of those he met through the years. Knowing, in his own words, that he wanted to "chronicle" his "pantheon" from the historic and contemporary surfing communities, Tudor was introduced to Halsband, who shared his intense passion for the sport and the remarkable characters who color surfing's past and present. Like Tudor, Halsband is a bit of a legend himself. Having graduated from the School of Visual Arts in 1980, he became the official photographer for the Rolling Stones' "Tattoo You" tour. "He became a friend and confidante of both Mick Jagger and Keith Richards, who counted on him to relay the vibe of their program." At nearly the same time, Halsband began to work intimately with Andy Warhol and Jean-Michel Basquiat. His photographs of their 1985 two-man show are now icons of American Pop Art and culture. For the last two decades, Halsband has pursued diverse genres in photography, including fashion, portraiture, and music and entertainment. His subjects have included Francis Ford Coppola, Hunter S. Thompson, Keith Haring, Iggy Pop, Beck, Al Pacino and Lawrence Fishburne. His self-assigned art projects have covered a broad range of interests, from ballet to a behind-the-scenes look at the American sex industry. This "surf journey," as Halsband calls it, "has been life changing. If I put in some hierarchy, I'd say without hesitation that it's been as interesting as touring with the Stones." The photographic process led from New York to Europe; from La Jolla to the North Shore; from Malibu to Oregon; and from Noosa Heads to Windan Sea. From the picnic bench at Makaha to the storage room at 90-year-old Bud Brown's house in Costa Mesa. Tudor and Halsband hauled their kit to every surfer on the list. And, of course, the list grew as time passed. The Surf Book features images of Bud Brown, The Irons Brother, Dale Velzy, John Peck, Wayne Lynch, Dick Brewer, Matt Howard & Britt Quinn, George Downing, David Nuuhiwa, Mike Hynson, Rob Machado, Donald Takayama, The Keaulanas, Dorian Paskowitz, Mark Cunningham, LeRoy Grannis, Hoole/McCoy, Skip Frye, Thomas Campbell, Bob McTavish, Woody Brown, Jock Sutherland, Robbie Page, Beau Young, Billy Hamilton, The Fletchers, CR Stecyk, Mike Diffenderfer, Tony Alva, Mark Martinson, George Greenough, Tony Caramonico, Kelly Slater, Strider Wasilewski, J Brother, Tom Morey, Nat Young, Gerry Lopez, Donovan Frankenreiter and Mike Dora.
Click here for details and ordering information